HEAVY LIFT CARGO MOVEMENT
Heavy Lift Cargo Movement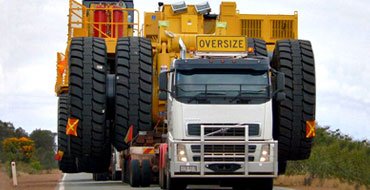 The handling of cargo that is overweight and over volume is an intricate task that requires the expertized knowledge of professionals.Over the years, working on projects that requires more than just theoretical shipping knowledge,
Deepsea has developed an instinctive third eye that enables us to provide clients with out of the box solutions to meet their project needs. Site survey, Dismantling project at sites, lifting with special tools and equipment, loading to the trailers/vessel with utmost care for the cargo moving with police escorts to the job site with erecting and commission.
Organizing the berthing of the vessel at a suitable berth, as a vessel handling agent.
Organizing route survey from the terminal to the project site to determine the precautions to be taken & to be aware of the statutory limitations & permissions to be taken by concern authorities in advance to move the cargo as per the schedule.
Customs documentation for UAE or GCC countries through Dubai customs authority.
Supervision at the time of discharging or loading the cargo at any UAE ports.
Arrangement of heavy lift cranes, Low bed trailers, mafi trailers, dolly trailers for odd dimensional, heavy lift cargo for easy handling.
Selection of suitable transportation system & ensuring that required number of trailers with suitable capacity.
Making arrangements for the transshipment vessel or tug and barge, if transshipment by sea is involved for third country destination.
Arranging discharge survey & loading survey for the cargo and lashing supervision.
Coordination with cargo receivers to ensure that project site is ready to receive the project cargo at destination.
Positioning of the project cargo at the site & assisting the receivers to offload the cargo at the site with suitable cargo handling requirements.
Our involvement in the construction of major landmarks of Dubai validates our importance in the Dubai shipping industry.
Trans-Shipment Cargo Movement
Dubai, has established itself as a major freight hub given its central geographical location. Acting as the midpoint between the western and eastern countries, Dubai is involved in large scale transshipment of cargo.
Deepsea, as the leading freight provider in the region specializes in handling sea/ air cargo from Far East, Africa and the Indian subcontinent to the western countries of America and Europe. Further, movement of goods to CIS countries using Dubai as the import for re-export hub benefits clients by reducing costs and early arrival of goods at destination.
Our services include:
Immediate clearance of cargo at airport at time of arrival.
Efficient operations team for quick transfer of cargo from the marine container terminal to air cargo export terminal.
Advance booking to make availability of air cargo space at attractive rates to almost all major destinations.
Ease of documentation.
Well-developed banking system for transfer of funds on behalf of the shipper for the purpose of collection and remittance, made possible by the tax free flow of foreign currency remittances to and from the UAE.